(Above photo: Jeff Topping poses with his wife and daughters)
---
Jeff Topping '98 has led a long and successful career in coaching and recently made a big change so he could coach his own daughters in the sport they love.
Family has always been a big deal for Topping. His time on the Newman baseball team felt like being a part of a family and recently he changed coaching positions because of family.
After nearly 20 years with a Wichita high school, where he'd become a head coach, Topping took on an assistant coaching role at Maize High School to support his daughters' athletic pursuits.
He didn't always want to be a coach, but during his final year at Newman, Topping realized he wasn't ready to let the sport go.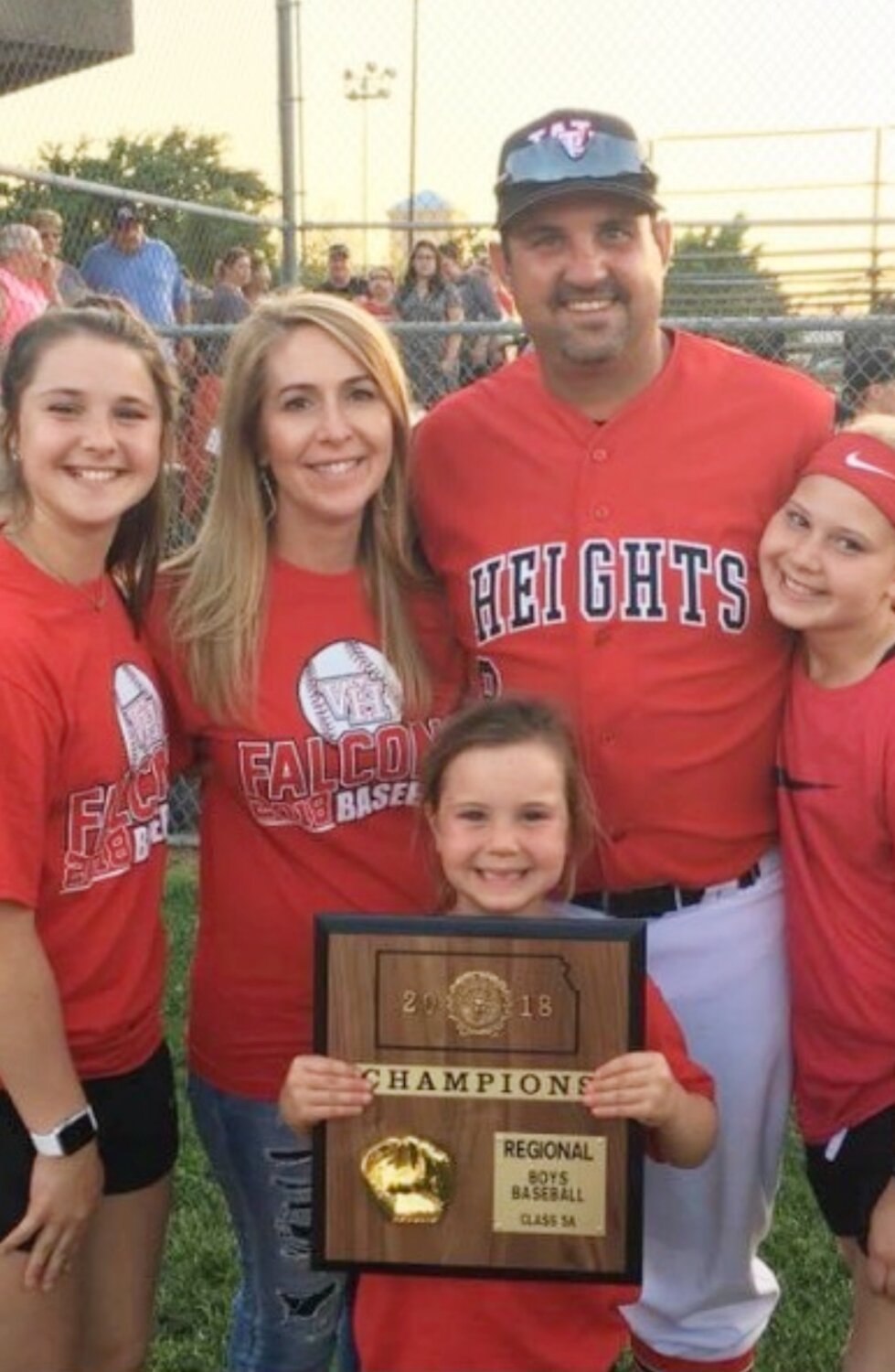 After graduating from Newman, he landed an assistant coach position at Wichita Heights High School, where he was an assistant coach in three sports — baseball, basketball and football. He stayed there, eventually becoming head baseball coach and teaching history and government, until 2019.
No matter what sport he is coaching, he brings a family atmosphere into the mix.
"At Newman, the first thing I think about is family," he said. "It was a family atmosphere. There were only 10-15 of us, that was our baseball family. It was always like that and felt comfortable at Newman, in the classroom and on the team. When I got into coaching, that was something I tried to instill in Heights. Team dinners, banquets — we wanted to make it feel family-oriented."
When he announced his move to Maize, his players and colleagues weren't surprised to hear his explanation: "Family comes first."
His oldest daughter was starting her freshman year and when he compared his Heights team schedule to that of his daughter's, he realized he would be missing too many of his daughter's games.
"I had to practice what I preached. They knew how important family is to me. I encouraged them to act like a family, and in turn, I needed to be there to watch my daughters and coach them. It really was an easy decision to make that move."
He is already enjoying the new time he has with his oldest daughter and looking forward to doing the same with his younger girls as they age into high school softball. He said time is precious and being able to have more time with his children is something he will not take for granted.
"I want them to have the best experience and most opportunity they can have. The kids don't understand how fast it goes until it's over. We want to be competitive and win, but we want to instill some life lessons in them and make it memorable."